One of the most amazing things to come out of the past year of remote and concurrent/hybrid learning has been the sharing of various learning models that work in our current situation. Many of these learning models have been used before, some sparingly, others in specific environments — but now they are being used every day in remote and concurrent classrooms around the world.
In a recent conversation with Blended Learning in Action and Balance with Blended Learning author Catlin Tucker, we discussed four specific models that are working right now. Each of these models – the station rotation model, choice boards and choose your own adventure learning experiences, the playlist model, and the 5Es instructional model – provide engaging learning opportunities for students in remote or concurrent environments. Catlin's new Advancing with Blended and Online Learning Course takes a deep dive into the specifics of each model, but I'll share the basics below to get us started.
The Station Rotation Model
The Station-Rotation Model is one of the most commonly used blended/hybrid learning structures, used successfully by teachers all around the world pre-pandemic. You may have done this yourself with various forms of media and centers in your classroom.
Now, with half the students at home and half the students in your classroom, the station rotation model still works but has to be adjusted accordingly.
The basics are simple to understand: Each lesson has various learning stations that the students work through during the class period.
The easiest way to begin is to have two stations.
Station #1: Instruction with the teacher.
Station #2: Online activity or assignment.
The teacher begins the class by explaining each station, then gets half the class (either the in-person group or at-home group) to start Station #2. The teacher then takes the rest of the class to Station #1 for half the class period, before switching and taking the other half of the class through Station #1.
While that is the easiest way to begin, going into three stations may be the best option for station-rotation lessons long-term.
Catlin Tucker shared a perfect image to explain the three station-rotation model in our Hybrid A/B environments:
The class period is broken up into three distinct sections. For Hybrid A/B learning I would have all of the students at home be in one group (Group 1) while breaking up the students in-class into two separate groups (Group 2 and Group 3). However, if your situation is such that you have at home hybrid students and full-time virtual students that group may have to be split in two.
The Teacher-led Station is what you will be leading (three separate times) throughout the class period.
The Online Station is personalized practice, research, and exploration, or multimedia lessons that students can access on their own using digital tools and spaces.
The Offline Station can be used for some off-screen activities, getting students engaged in reading or other activities that they do not have to be 'Logged on' to complete.
The key to the station-rotation model is to set clear time expectations at the beginning of the class and to keep them throughout the period. It also takes some serious planning. Don't be alarmed if the first time (or 2, 3 etc) students and you take some getting used to this model!
Choice Boards and Choose Your Own Adventure Model
This is a self-paced option for the remote or concurrent learning environment. The Choice Board allows for various levels of learning to take place and gives students choices in how they access information as well as demonstrate their understanding.
Here's what Catlin Tucker has to say about the Tic-Tac-Toe Choice Board option in her article, "Designing Your Own Digital Choice Board" (she has fantastic resources on this approach):
The classic 9 square model is ideal for a tic-tac-toe approach to a choice board that requires students to complete any three activities in a row across the board. Teachers can organize a choice board so that each column focuses on a particular skill or standard. Elementary teachers, who are teaching all subjects, may combine reading, math and vocabulary activities on a single board. On the other hand, a secondary teacher might design a board focused on one aspect of their curriculum, like reading or writing.
As teachers consider what types of activities to design, it's important to keep differentiation in mind. Teachers can choose to differentiate by allowing students to decide:
what they will produce.
how they will engage with the information (learning modality).
which level of complexity they are ready for.
which activity appeals to their interests.
Some teachers choose to color code the squares and encourage stronger students to tackle more challenging activities. While others prefer to assign points to each box based on how challenging that activity is in relation to the other options.
I love Catlin Tucker's example choice board where the activities are tied to various high-tech and low-tech options for learning, curating, and creating.
Catlin Tucker Example Tic-Tac-Toe Choice Board
And here is a great example of what this might look like in 6-12 from Kasey Bell (who also has amazing resources available on choice boards and learning menus):
6-12 Tic-Tac-Toe Choice Board – Novel Study by Kasey Bell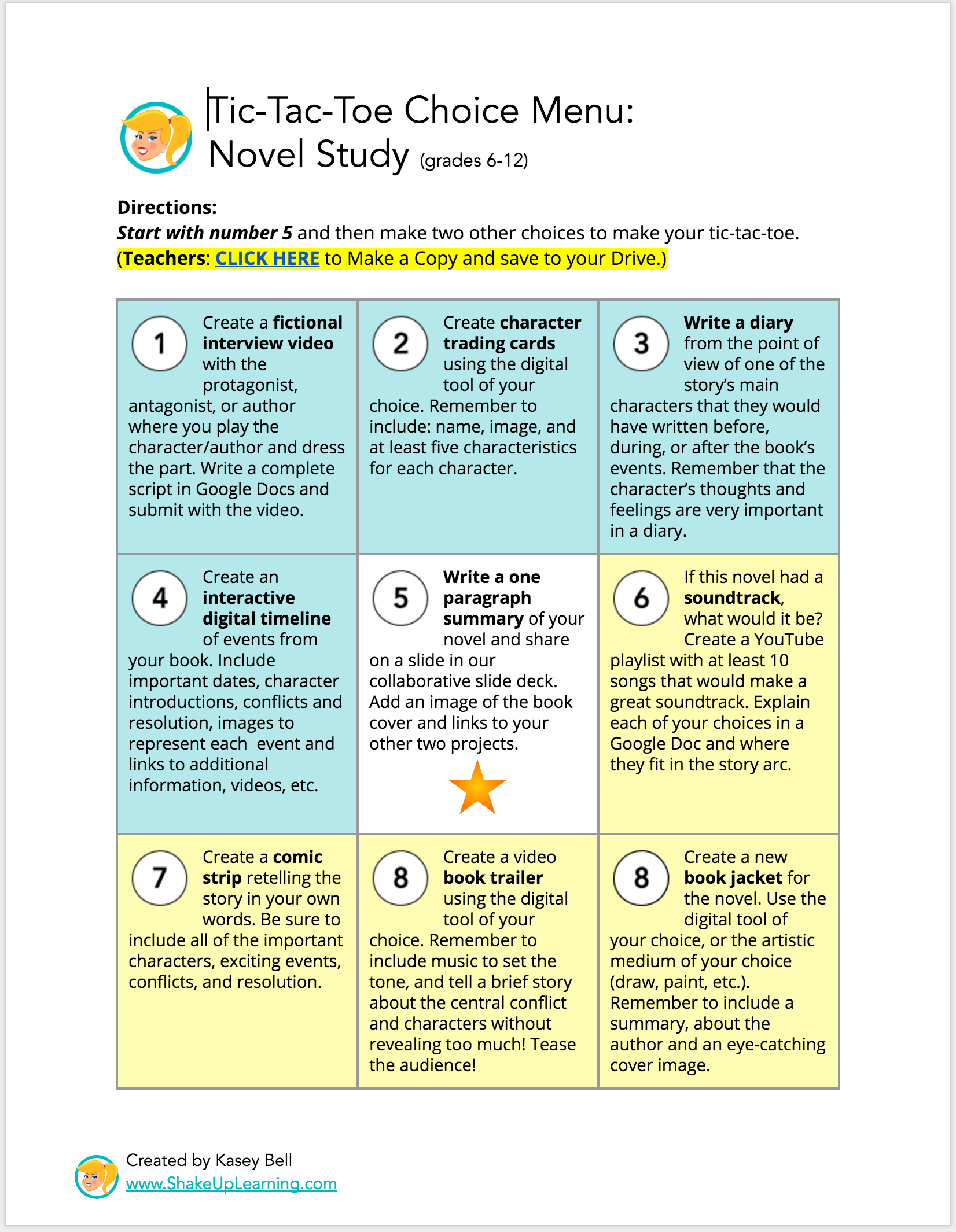 The Playlist Model
Catlin breaks down how the playlist concept stems from the Individual Rotation Model in which each student works from an individual playlist of activities. The goal of the playlist model is to allow students some control over the pace and path of their learning.
Here's what she says in a recent post:
When I design a playlist, I always start with a template. I include all of the activities that I believe MOST students will benefit from then I customize individual playlists to ensure that students who need additional scaffolding receive it and those who are ready for next challenge get it.
My playlists mix the following elements:
Screencasts
Offline activities
Video explanations and instruction
Online quizzes
Personalized skill practice with online resources
Pair practice
Peer-evaluation
Self-evaluation
Side-by-side assessments
Conferencing
Playlists pull together a mix of activities designed to build specific skills. Students control the pace of their learning and teachers can customize individual learning paths with the playlist model.
An entire class can work on a playlist simultaneously, or they can be the focus of one station in a station rotation lesson. As students work on a playlist, the teacher must be available at a "help desk" to work directly with students who hit a "stop sign." These short conferencing sessions allow the teacher to partner with students to ensure each child is getting the support, scaffolding, instruction, and practice he/she needs to develop.
The 5Es Instructional Model
The 5Es are an instructional model encompassing the phases Engage, Explore, Explain, Elaborate, and Evaluate, steps which educators have traditionally taught students to move through in phases.
Catlin shared a template below that teachers can use to create their online learning experience using the 5 Es instructional model.
The beauty of building an online learning experience using a Google document, like the one pictured above, is that teachers can create different versions of the same learning experience. This allows them to subtly differentiate the content for learners at different levels. Readings, videos, and activities can be customized or personalized, and the various versions can be shared quickly via Google Classroom.
Next Steps?
Interested in learning more about what's working in remote and concurrent classrooms and the step-by-step process for putting these models in place? Check out Catlin's new Advancing with Blended and Online Learning Course – or head over to her website at CatlinTucker.com for all kinds of free resources available.
Join 76,000 other learners (and teachers)
And get new posts every week by email.