This is the first post of a four-part series on making curriculum relevant, meaningful, and adaptable. This article focuses on the testing culture in education, what some of the research says, and how we can move towards performance tasks. A special thanks to Jay McTighe for sharing his insights on this (and much more) in our recent podcast conversation. 
This is a big question many of us have in education: Why are we still giving so many tests?
First, the obvious reason, because the state and other entities require us to give standardized tests each year.
Ok, I think we can all agree this is the most pressing reason, and it has a trickle-down effect that we will get into later (i.e. the only way to get kids ready to take these tests is to give more tests). There is also a lot to unpack with just that statement – why state and other entities require us to give tests which – we will not get into in this article, but many others have broken down the political and financial reasons behind this phenomenon.
Second, we have to hold colleges and universities accountable. If they are still requiring tests like the SAT, ACT, and AP tests for admission, then we will inevitably be giving tests "like this" in our K-12 schools.
Third, there is a combination of things that are all interconnected: Convenience, time, and data.
Testing is the easiest way to assess students. It is the most time-efficient way to assess students. It is also the fastest way to measure students' "understanding" and to get data on where students are compared to their peers (either locally, nationally, or internationally).
Fourth, tests are written into our curriculum, they are baked into learning "programs" and are typically tied to standards. Why? Well for many of the reasons above and because we've done it this way for a long time. I took tests and was measured by tests in school. Weren't you?
Now, there are many other reasons why we still give so many tests. I'm sure you could list many additional reasons in the comments of this article, and when I'm leading assessment workshops we come up with many additional reasons for our testing culture.
Also, I don't pretend to think all testing is bad. There are often valid reasons for giving a test or a quiz (especially when we want to formatively see where students are at). Also, many tests are built with questions that are beyond surface-level regurgitation and hold real value.
Still, the research I'll share below (and many of our own experiences) tells us that testing is 1) not the best or only way to share learning or demonstrate understanding, 2) has a major retention problem with sometimes 90% of knowledge correct on a test being lost in a few months, and 3) testing is not even the best way to prepare students to do well on those high-stakes standardized state tests, AP tests, and SAT/ACT tests.
If tests aren't the best way to assess, don't promote learning retention, and don't even prepare kids for the tests they "have" to take, then why are we still giving so many tests?
The follow-up question as to why are we still giving so many tests is "What can we do differently, and how do we pull it off?"
I got the chance to talk with Understanding By Design author and curriculum/performance task expert Jay McTighe about all of these questions (and more). In this episode of The Backwards Podcast, we dive into driving factors of testing (curriculum, mandates, and more) and how performance tasks can, and should, be a replacement for many tests. We also get into the weeds about how we can replace tests at the local level, and what the future of the curriculum might look like.
Listen to The Backwards Podcast on Apple Podcasts, Spotify, Google Podcasts, or directly on Libsyn.
Is Practicing the Test the Best Way to Prepare for a Test?
As author Jay McTighe states: "The logic of test prep is plausible and rooted in experience from other domains. For example, if you want to improve your performance in dribbling a basketball or piano playing, then you must practice those activities. Shouldn't the same apply to test taking?"
I was a former athlete and was a football and lacrosse coach during my time as a middle school and high school English/Language Arts teacher.
As a coach, I believed that winning was a byproduct (not just a goal) of the time, work, and focus the team displayed while practicing. Fundamentals, teamwork, strategy, tactics, planning, and execution all had a role in how well the team performed. But, at least we had common goals.
In the classroom, we had varying goals. Each student was different. They all had unique interests, ideas, friends, and views on what success looked like to them in school.
My goals as a teacher were fairly simple.
I wanted students to enjoy my class and find success in learning.
I wanted to challenge students and give them an opportunity to grow.
I wanted to make sure their hard work in my class showed on the learning assessments that were measured.
I say this because, maybe, just like me, you only have one or two (or five) assessments each year that are actually measured beyond your classroom walls.
And guess what?
We care about what we are measured on. We focus on it, and we try to improve it. This is not only teachers, this impacts every person in any field.
In a recent HBR article they talk about how the measures in other fields (CEOs, Medicine, Science etc) have the exact same impact:
It can't be that simple, you might argue— but psychologists and economists will tell you it is. Human beings adjust behavior based on the metrics they're held against. Anything you measure will impel a person to optimize his score on that metric. What you measure is what you'll get. Period.
This phenomenon plays out time and again in research studies.

There is no way around it, except to change what we measure. Or, to change the game entirely.
I was caught up in a circle of practice that was based on some misconceptions on how to improve the metric I was judged on as a teacher. It is important to note, I was trying to do what was best for my students this entire time. I believe almost all teachers have the best interest of students, and that their practice is predicated on preparing students in any way possible.
McTighe shares the misconceptions that led me down this test prep trap as a young teacher, and what many of us commonly believe as the reasons for preparing students for a test that we don't believe in.
Misconception #1 – The best (and only) way to improve test scores is to practice the test.
Here McTighe shares an analogy of the yearly physical exam with your doctor. Although the physician examines and measures your health, spending all your time trying to prepare for this physical with practice on the strategies would not make much sense.
It would be thought silly to practice the physical exam as a way to improve one's health. But this confusion is precisely what we see in schools all over North America. Local educators, fearful of results, focus on the indicators, not their causes. The format of the test misleads us, in other words.
Misconception #2 – Standardized test items involve primarily recall and recognition, and thus drill and practice will be the most effective method to prepare students for them.
Grant Wiggins (2013) points out the flaw in this reasoning: "Even though the test format requires a selected response, it does not mean that the tested knowledge is necessarily simple. The [format] deceives you into thinking that since you are mimicking the format of the test, you are therefore mimicking the rigor of the test. But data show the opposite conclusively: local tests are often less rigorous than state and national tests even when they mimic the format."
Too often, the information revealed by test prep exercises identifies whether students have chosen the "correct" answer rather than helping teachers determine if they have a conceptual understanding of the underlying concepts and skills and can apply (transfer) those.
It seems that testing students does not make them better test-takers, keep their retention, or improve their ability to achieve high scores on those state, AP, or SAT type assessments.
How I Got Out of The Test Prep Trap
It started small.
First, I started to notice how disengaged my students were in class. Despite my efforts to use technology, create fun learning activities, and challenge my students, I was failing them in many ways.
They cared more about getting a GRADE and playing the GAME of school than they did about learning. When I looked at the research it was clear that it was not just my class (and my students) that were showing signs of apathy.
In a recent article by Scott Mcleod on Dangerously Irrelevant, he shared results available from the annual Gallup poll of middle and high school students (over 920,000 students participated last fall). Here are a couple of key charts that Scott made from the data (remember this was pre-pandemic):
Interestingly enough, it seems that our students know this is happening. They know that they and their peers are often bored in school. We know that as teachers and administrators. What can we do about it?
What Do We Do Instead of Tests?
The simple answer: performance tasks and a project-based approach. Students are engaged more in these approaches, are able to demonstrate deeper levels of understanding, and are connected to real-world experiences and authentic tasks that are relevant and meaningful.
Let's take a look at some of the research that supports making this shift.
From a recent report on testing: A multi-year study of students taking AP United States Government and Politics (APGOV) and AP Environmental Sciences (APES) showed students did better on AP tests when engaging in project-based learning. APGOV students engaged in PBL in high-achieving schools "had a 30 percent higher pass rate on the APGOV exam than non-PBL students in comparable schools." The study was conducted from 2008-2013 and was led by the George Lucas Educational Foundation.
That same study showed that APES students in poverty-impacted schools "had a 19 percent higher pass rate than non-PBL students in comparable schools matched nationally."
Another study showed that second-grade students living in poverty increased their literacy and social studies skills through project-based learning, researchers at the University of Michigan found. The study compared students at 20 high-poverty elementary schools. It showed "students whose teachers used the project-based learning curriculum made gains that were 63 percent higher than their peers in the control group in social studies and 23 percent higher in informational reading."
What about families and parents? What do they want from an educational experience?
The Gallup report Creativity in Learning is based on a survey conducted in 2019 as a "nationally representative study" of teachers, students, and parents of students. The focus was the extent to which "creativity in learning" is being fostered in American classrooms, what respondents think of it, and how technology supports it. Project-Based Learning is cited throughout the report.
Here are some highlights via PBLWorks:
"Teachers who often assign creative, project-based activities are more likely than other teachers to say their students display a range of learning and development goals, including building self-confidence, utilizing their unique strengths, and developing critical thinking and problem-solving skills."
"68% percent of teachers say project-based assignments are a good measure of student learning, far more than the 12% at who say the same about standardized tests."
When asked what they believe are the most important learning outcomes, the top three choices were:
"learning to think critically" (chosen by 64% of parents and teachers)
"problem-solving skills" (chosen by 51% of teachers; not asked of parents)
"developing students' curiosity to learn beyond the classroom" (chosen by 36% of parents and 41% of teachers)
Parents want their children to have learning experiences like what happens in performance tasks and project-based learning.
Take a look at this chart from the report, showing how the learning experiences were ranked, with the percentage of parents who say it's "very important."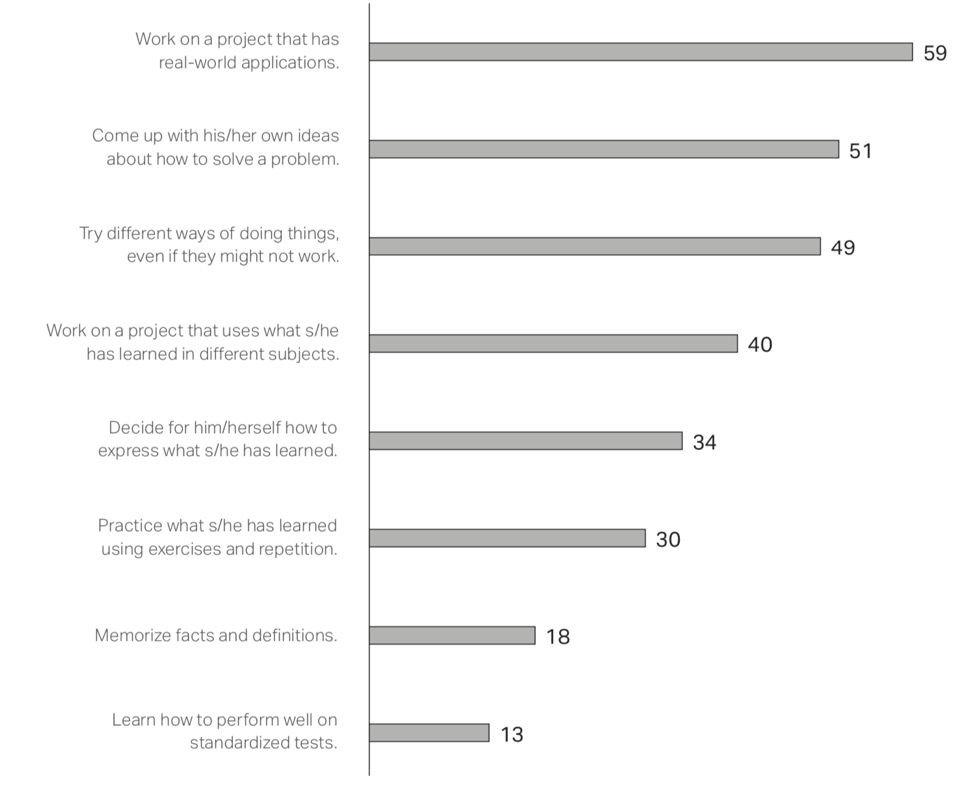 Students want the kind of learning experiences that PBL delivers.
According to Gallup,
"Most students say they would like to spend more time on activities that give them input on their educational path, such as choosing what they learn in class and learning more about topics that most interest them. 
"Two other activities a majority of students would like to spend more time on to help them see how what they are learning relates to real-life problems outside the classroom are 1) working on projects that can be used in the real world, and 2) publishing or sharing projects with people outside their class or school."
Studies comparing learning outcomes for students taught via project-based learning versus traditional instruction show that when implemented well, PBL increases long-term retention of content, helps students perform as well as or better than traditional learners in high-stakes tests, improves problem-solving and collaboration skills, and improves students' attitudes towards learning (Strobel & van Barneveld, 2009; Walker & Leary, 2009). PBL can also provide an effective model for whole-school reform (National Clearinghouse for Comprehensive School Reform, 2004; Newmann & Wehlage, 1995).
A 2016 MDRC/Lucas Education Research literature review found that the design principles most commonly used in PBL align well with the goals of preparing students for deeper learning, higher-level thinking skills, and intra/interpersonal skills (Condliffe et al., 2016).
No longer could the argument be about how well (or poorly) students would do on standardized assessments. The research was clear. When performance tasks and PBL were implemented well, students thrived in traditional tests and in a wide variety of soft-skills that are crucial to development and success beyond school.
A Final Thought
This is hard work. Most of us are just trying to stay afloat right now in education. We've seen many of these issues that have been present for a very long time bubble to the surface even more during the pandemic.
It takes time to develop an adaptable curriculum. It takes take to develop meaningful performance tasks. It can't be solved by buying a program or singular resource. As ASCD points out, the most notable successes occur in schools and districts whose teachers build their own admittedly imperfect curriculum.
Also, not all tests are created equal. Some tests are valid, getting rid of all tests doesn't make that much sense, and is most likely not possible in our current circumstances and environment. But, if we are giving tests as assessments 90% of the time currently, how can we shift that percentage down and provide more performance tasks as assessment options.
This series is on my mind right now as I work with many schools struggling with these issues and how they are impacting SEL and engagement with our students. It is also on my mind as a father of five who notices when they are excited about learning, and wonders how we can do more of that across education.
I would love to hear your thoughts in the comments. Thanks for all you do!
Join 76,000 other learners (and teachers)
And get new posts every week by email.